Skate Sharpening

Drop off your skates for quick, affordable, and quality sharpening. Our experts have got you covered and will happily offer insight on any skate-related questions you have.

Repairs & Maintenance

We've got a wide range of service offerings for your skates and sticks. From blade replacement and riveting repair to stick repair and boot punching, we can help you out.

New & Used Gear

Need hockey gear? You'll find it hear. We've got a wide selection of new and used hockey gear for you to choose from. From our garage to yours and back again.
From Stickworx to Sports Garage
If you or your kids play hockey in Canmore, you've likely heard of Stickworx. Longtime local, Pete Philp, started Stickworx back in 2015. The hockey hotspot has now rebranded and expanded to become what you now know as Sports Garage.
You can expect Sports Garage to continue to offer quality gear, exceptional service, and personalized care. Whether you're lacing up rental skates to skate on frozen lakes in the Rockies this winter or getting fully suited up for the hockey season, you can trust that you'll find what you need at Sports Garage.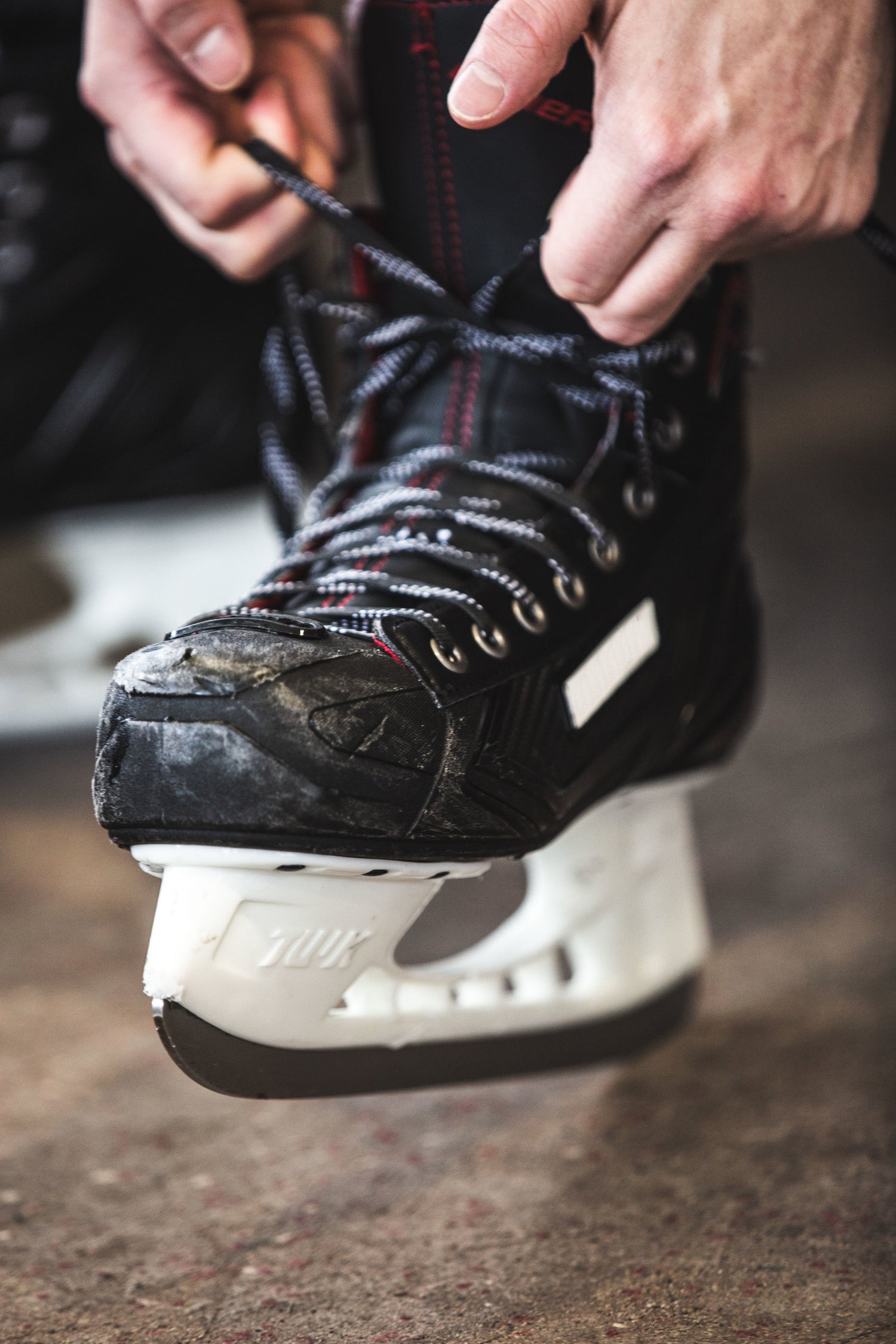 Skate Sharpening
We offer individual sharpening as well as multi-sharpening passes. We service a range of skates and can typically offer same-day turnaround. If you need your skates done in a rush, let us know and we'll prioritize your sharpening.
If you're interested in getting your skates expertly sharpened for a great price just steps away from our local arena, drop by Sports Garage today. If you have any questions for us, don't hesitate to reach out.
Repairs & Maintenance
Our services don't end at skate sharpening. If you need skate or stick repairs, we want to help you out. Here are some of the hockey services we provide.
Skate Blade Replacement

There are many circumstances when your skate blades need replacement. If you have a broken blade, cracked blade, bent or rusted/worn blade, let us fix that. We offer blade replacement services and sell the highly-celebrated Bladetech hockey blades if you're looking for an upgrade. 
Riveting Repair

All hockey skates use rivets to hold your blades in place. Over time, those rivets can loosen and wear down. Replacing your rivets can increase the lifespan of your skates and save you from having to replace them entirely.
Stick Repair

Rather than buying a new hockey stick every time one breaks, let us help you repair the one you have. Whether you need a repair or a replacement, we'll get your stick looking and working as good as new for you. 
Punching & Moulding

Comfort is key. Our boot punching and skate moulding services are here to make sure you're comfortable, avoiding all possible injury, and in the best shape possible to hit the ice. 
Hockey Gear
New Gear

We sell a range of new hockey gear and accessories including skates, sticks, and accessories. Beyond that, we can happily bring in anything you need to save you a trip to the city and scrap those shipping costs from ordering online. When your gear gets outgrown or shelved for the season, you can return it to our consignment selection.

Consignment Gear

Our consignment gear includes shin pads, pants, skates, shoulder pads, elbow pads, and helmets. This type of shopping is a great way to try out the game if you're new or just want to gear up without breaking the bank. Keeping your gear in good condition means you can always reconsign it later if you don't use it anymore or grow out of it!
Featured Hockey Gear
Regular price

From $349.99

Regular price

Sale price

From $349.99

Unit price

per

Regular price

From $399.99

Regular price

Sale price

From $399.99

Unit price

per

Regular price

Sale price

$469.99

Unit price

per